How It Works
Calin is a new kind of handbag. The kind that evolves with you. That embraces and celebrates the many facets of who you are. That gives you the freedom to experiment and take charge of your style and life. You've never been average, so why should your handbag be?
Inspired Style
Inspired by the women who are fearlessly true to themselves. We embody this ethos with eclectic, luxe materials and artful details to create playful and sophisticated designs.
Uncompromised Quality
With impeccable construction, timeless designs and the finest materials, our handbags are built to last and be cherished.
Sustainable Design
We care about our planet and the people on it and are constantly trying to improve our sustainable efforts and reduce our environmental impact.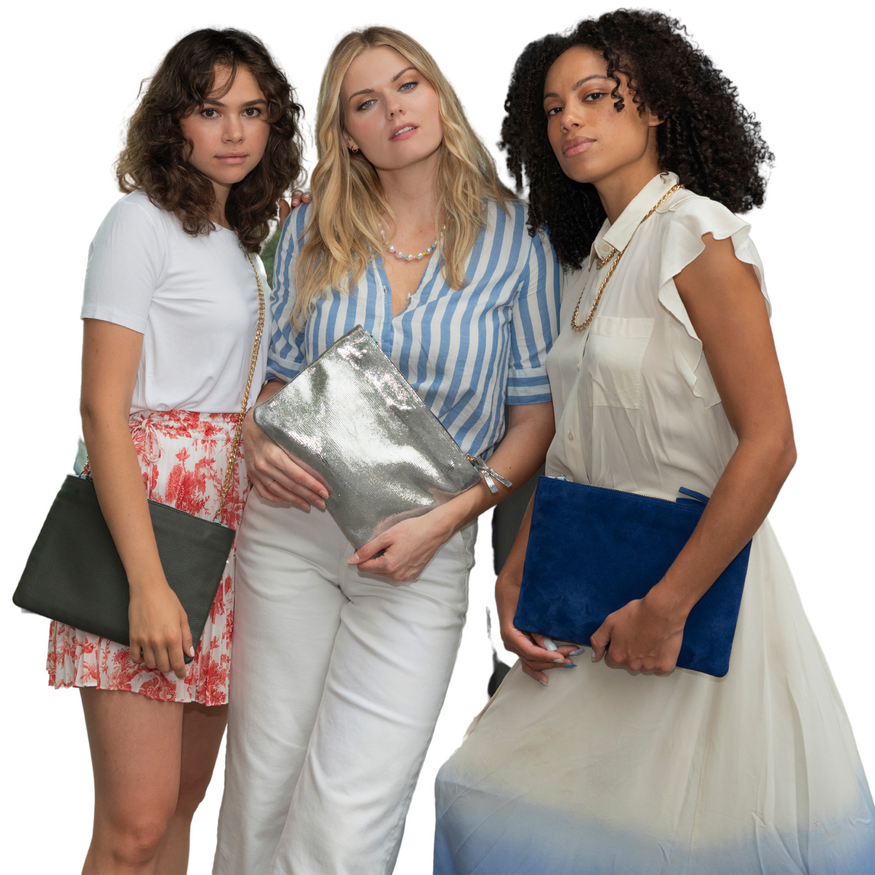 The Reviews Are In
"This bag is high-quality and it shows — I am always getting compliments on it! It holds everything I need, especially for a date night or special occasion. It lets me carry all the essentials in a super sleek way, and when I need to revert to mom-mode, I just slip it into my bucket bag and viola! — I don't need to worry about forgetting a thing."

— MARIA D.

"I absolutely love the versatility of my Calin bag! I use it all the time and for so many different reasons - oftentimes it's holding my belongings (cell phone, wallet, keys) and I toss it in my backpack for work, travel, etc. and even have it in my beach bag during the summer. The materials, make and feel of the bags are super luxe and I've never not received a compliment on the bag while wearing it. Love it!"

CATE C.

"I love that I can change bags without having to pack and unpack. I'm much more likely to change my bag to match my outfit. And they are very well made. A really high quality grade of leather. I will be buying more colors to add to my collection!"

ANDI K.

"Calin bags are glamorous and practical. They help me stay organized and they are the perfect size for essentials. I love the gold cover the most. It makes me feel like a movie star even when I just look at it."

CATHY H.

"I love taking my Calin insert and my many covers on vacation with me. The covers don't take up much room and I can wear a different bag every night to match my outfit and mood."

AMY E.

"I always look forward to using my Calin NYC bags. Yes, plural. I started with the gorgeous blue suede version, one of my favorite but hard to find colors, and later added the silver metallic cover. The silver cover solved the problem of too tiny evening bags that can barely fit a phone and pair of glasses. The interchangeable zipper pulls are an added treat!"

FRAN A.
Notes from Calin
We came up with three looks to explore dressing in monotone shades using our most colorful Calin bags.