Calin Crew: Lindsay Miller
At Calin, we celebrate the idea that personal style is a form of self-expression.
 In this series, we highlight the women who inspire us and talk with them
about their style and how fashion empowers them.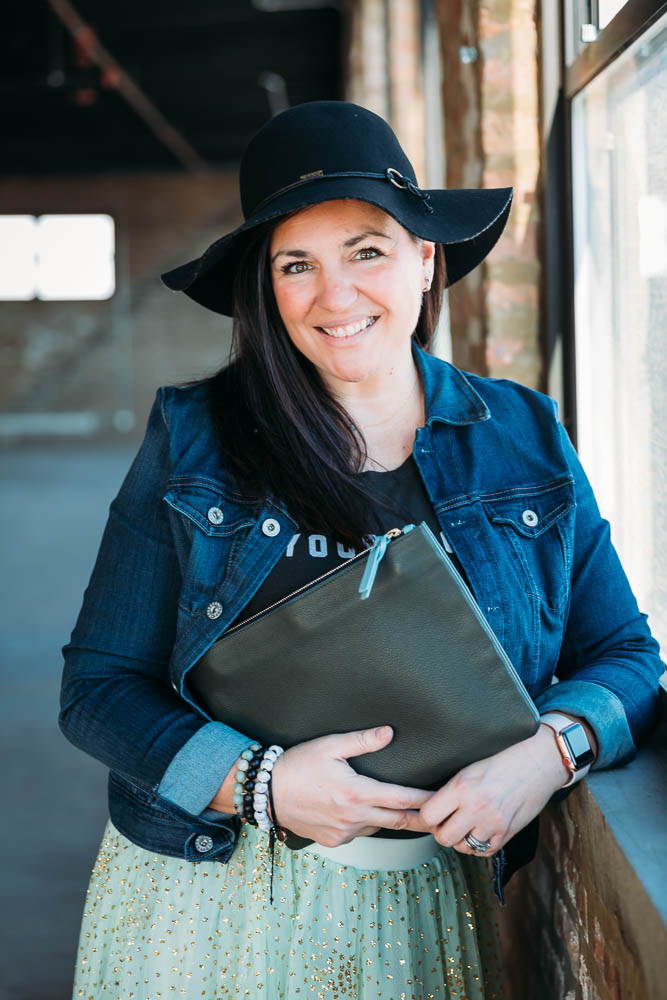 Tell us a little about yourself
I was born and raised in Iowa. My parents were both business owners, so I guess it is in my blood, but it was never my plan. Growing up I was always involved in anything and everything. I showed signs very early on of being a 'bossy' girl. I was the oldest, and my siblings were employees from day one of their arrival. In 2019, I partnered with a past colleague of mine to create Reverie, an organizational development consultancy that helps owner-led small businesses scale, transition, break a plateau, pivot services, or buy/sell. Outside of work, I love spending time with my husband, our two French Bulldogs, and my nephews and nieces. I also love reading, games of all kinds, eating Chilaquiles for brunch, going on walks, and the Peloton app.
How would you describe your style?
My style is moody; simply meaning I dress for my mood. There are times where I love an ultra feminine, sparkly and poofy, outfit. Other times I prefer something with edge. I like to mix various styles in unexpected ways - like a princess skirt with Vans, or a pair of leather pants with a formal blazer. Maybe that has something to do with my contradictory personality characteristics!
What do you love about fashion?
I don't have a creative bone in my body. I feel like fashion acts as that creative outlet for me. Clothing is definitely an expression of self, and decor of self. I love that I can look and feel like a completely different person based on what I put on.
Do you feel like your personal style is a form of self-expression?
Oh yes! At times it is literal. I love wearing a graphic tee under a blazer. Some of my favorites have uplifting sentiments by Spiritual Gangster. I love wearing inspiring messages with my most formal work attire. There is nothing wrong with a little pop of fun peeking through.
Do you have different style personalities? 
Yes, I absolutely do. My clothing choices have to match my mood. The texture, volume, color, material - everything is based around my mood and energy.
How do you decide what you're going to wear each day?
I have a morning routine involving things such as meditation, journaling, affirmations, etc. From there I go for a walk, and then listen to music while getting ready. I pick music that matches my mood and an outfit to match. Also, I shop. I shop a lot. So, it is pretty fun to figure out what to wear because I usually have something new to put on.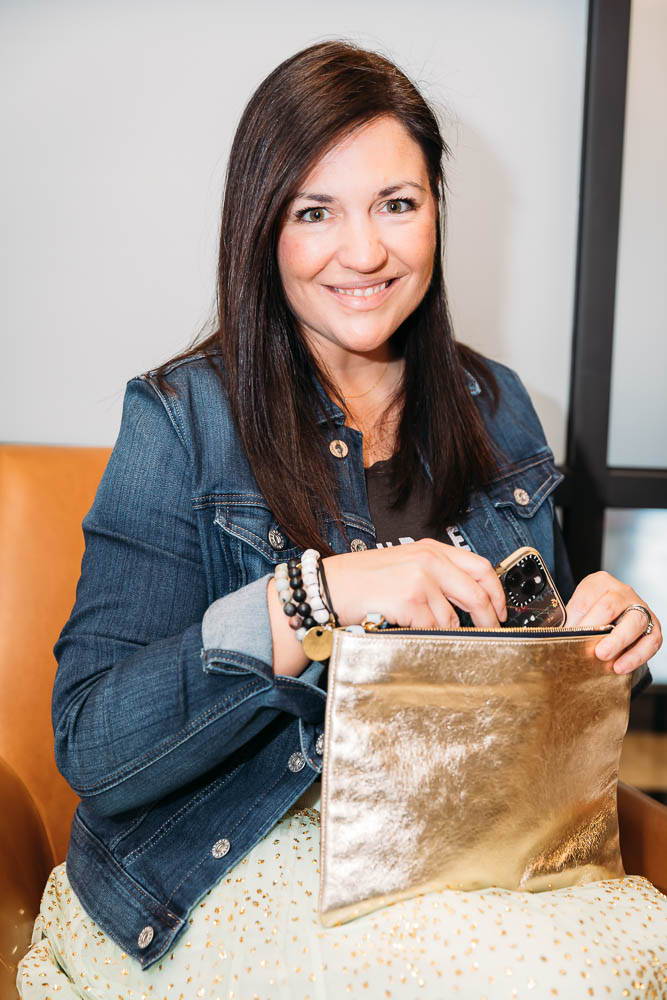 How has your style evolved over the years?
Honestly, I don't know that it has. I've never been able to pull off trends. Even with all of my mixing and matching, I usually have a pretty timeless style. (That's a nice way of saying boring, right?) I have several white dress shirts, loads of blazers, jeans, etc. Not to say that there aren't plenty of embarrassing outfits from over the years, but for the most part I have kept it pretty classic.
Do you have qualities about your personality that are contradictory?
I absolutely do. I am a very confident and outspoken person, but I'm also an introvert. I can direct traffic for multi-million dollar companies and speak at large conferences, but at the same time I have a really hard time meeting new people. There are times that I want to be social, but other times I want to curl up with a book.
Why do you feel passionate about helping small businesses?
Small business owners are my people! My parents were business owners, and I saw how hard they worked. I want to give them anything and everything I have to help them succeed.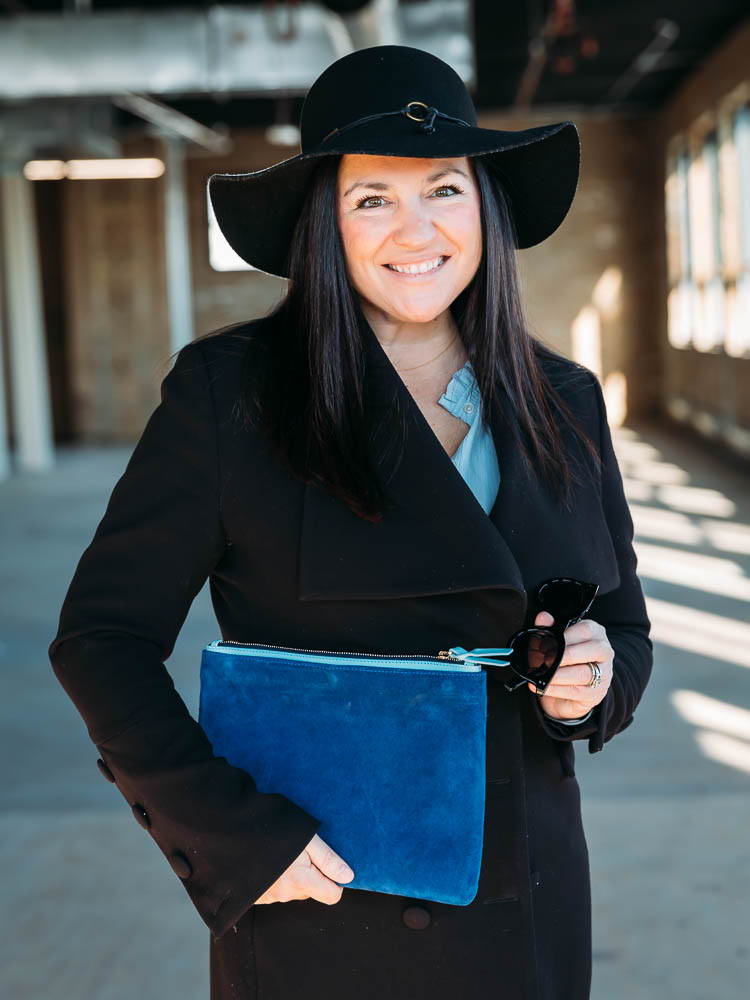 "I don't have a creative bone in my body. I feel like fashion acts as that creative outlet for me. Clothing is definitely an expression of self, and decor of self. I love that I can look and feel like a completely different person based on what I put on."
What aspect about Calin stands out the most to you?
I love the size of the Calin bags - they can easily fit in my work bag as a utility bag, and then turn into a super cute purse. When I am running in and out of meetings in different client offices throughout the city, I need a bag that is easy to pick up and go. I don't always want or need the full bag during appointments.
How do you use Calin in your day-to-day life?
I am always on the go, so I need a bag that is high fashion and high function. Calin does that for me. I have used my Calin bags during business meetings to keep track of my cords, Airpods, fobs, etc. and then pulled it out for happy hour. I am also a huge fan of using my bag to provide a pop of color, or add texture to my outfit.
When do you feel most empowered?
Hands down, when I hear success stories from clients. I love to know that they are making progress, seeing growth, and making it happen. Oftentimes, my clients will take something I shared with them, and use it against me. This is the biggest compliment, and every time it happens I'm elated. Those are the moments that affirm I am doing exactly what I was created to do.
What is your "power outfit" that makes you feel unstoppable?
Honestly, a killer shoe. I have some really loud boots and heels that do the trick when I need a shot of power. The right shoe can perform miracles.
Rapid Fire Round:
One item you can't live without: Leather jacket - I can pair it with anything
Fact people would find surprising about you: I've gone trap shooting once and shot 5 out of 5 clay pigeons. Who knew trap shooting was my sport? One and done with a perfect record
Hidden talent: Cheerleading jumps. I can still do a mean Herkie
What gets you out of bed in the morning: Opportunity - life is full of them. I love not knowing what might come next
Favorite style moment: One of my gala gowns was absolutely perfect. I loved it!
Style Icon: Mostly Jackie O with a touch of Carrie Bradshaw
What do you always have in your bag: A phone charger and lip balm
Your happy place: The boardroom or a beach chair
What are you...
Reading: Reading the Power of Moments 
Listening to: Speakers on Clubhouse
Latest Articles